Carlow District Credit Union Ltd. is a co-operative based financial institution, owned by our members who save and borrow with us.
A Credit Union is Run Only to Benefit its Members
From humble beginnings to over 33,000 members
Carlow District Credit Union Ltd. is a co-operative based financial institution, owned by our members who save and borrow with us.
Established in March 1963, we have grown from strength to strength over the years, moving from CYMS Hall in College Street to Presentation School in Tullow Street (now Carlow Library) and then to Burrin Street before settling in our present location, Credit Union House, Askea, in 2004.
Our operating principles are founded on our core values of cooperation, equality and mutual self-help. We exist for people, not for profit.
We've grown from strength to strength
The geographic area in which we operate is called our 'Common Bond' which was further expanded in 2015 with the transfer of Ballon and Rathoe Credit Union into Carlow District Credit Union Ltd., allowing us to offer our services to a wider area. In June 2017 Rathvilly and Mayo/Doonane Credit Unions merged into Carlow Credit Union.
The services we offer are managed by our Board of Directors and volunteers, our experienced management team and staff, all of whom are dedicated to improving the financial well-being of our increasing membership.
We provide a safe place for members' savings (shares) and deposits and offer a full suite of loans at very affordable rates which can be tailor-made to suit the individual circumstances of different members.
We're different to other financial institutions
The thing which makes us different is the close relationship we enjoy with the community in which we're based and of which we're a part. It is this closeness with our members that keeps us connected, that makes us who we are.
Another unique feature is the insurance cover we provide on loans and shares, at no direct cost to our members. This gives our members the ability to borrow with the peace of mind that if they die, their dependents won't be left asked to pay the balance.
We're here to help
Everything we do is in the best interests of those who save and borrow with us. We have been part of the local community for over 50 years now. We are owned by our members, for the benefit of our members. We're here to help them at every stage of their lives.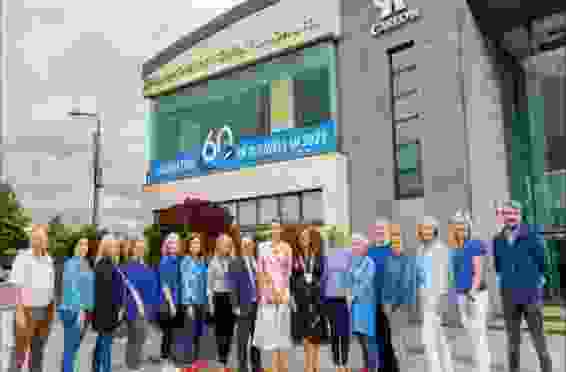 We offers many services aimed at improving access to financial services and encouraging financial inclusion.
Enjoy all the benefits of a modern, digital financial services provider, with the added advantage of being local.
Local Charity
Carlow District Credit Union Ltd., is committed to supporting local charities in our common bond. To date, we have raised much needed funds for charities such as Calow Womens aid, Carlow Mental Health Association, Carlow Samaritans, Friends of St Fiacc's House, CRY (in memory of Pamela Reid) and much much more.
Carlow District Credit Union Ltd., seeks nominations for their 'Charity of the Year' on an ongoing basis. Applications are invited from charities based within the environs of Carlow town and also our sub offices in Mayo/Doonane and Rathvilly common bond areas. All nominated charities must have full registered charitable status and proof of this must be supplied with the application, together with a brief outline of the aims and details of their services supplied, within the community. Applications should be addressed to:- Charity of the Year Application, c/o Board of Directors, Carlow District Credit Union Ltd., Credit Union House, Askea, Carlow.
Sponsorship
Carlow Credit Union has a longstanding reputation for being actively involved in the community we serve and are uniquely positioned to support community development through investing in community projects.
We have proudly sponsored many local clubs, initiatives and events over the last 60 years which include but are not limited to:
Asca GAA
Eire Og GAA
Palatine GAA
Carlow Tennis Club
The Annual Carlow Regatta
Carlow Pride
Presentation College Carlow
St Marys Academy CBS Carlow
SETU Carlow
Carlow Chamber Business Awards
If your organisation is seeking sponsorship, we encourage you to complete the application form below and a member of our team will be in touch with you directly.
Become a Volunteer
Are you looking to further your education or skillset in a particular area? Maybe you are interested in helping out in your community? Carlow District Credit Union is currently looking for volunteers to ensure a strong and viable future for all our members.
Take your loan to new heights with Carlow District Credit Union Ltd